Our very first book in the series, discover some amazing people resting in Brisbane cemeteries. Grave Tales Brisbane Vol. 1 is out now. Here's a taste of the events and people in this volume:

Grace Yorston and Harry Jarman

Two young people returning home from work were caught up in a tragedy that cut their lives short. Before the tragedy, Grace Yorston, 27, was seen walking slowly towards the ferry; the flood in the river was running strongly. Harry Jarman, 21, sacrificed his life so his aunty might live. What was this awful catastrophe that took place in the Brisbane River at 5 O'clock on a Thursday, 13 February 1896 taking the life of Grace, Harry, and numerous more commuters?
 
Richard Ramo
At the entrance to the Toowong cemetery, a monument invites you to share a father's personal grief –the loss of his three sons killed at war: The haunting words "All my hope lies buried here", are just a few of the heartfelt messages adorning the large glass and concrete mausoleum. But is this monument to peace really what it seems?
Peter Jackson

Every day thousands of motorists driving along Frederick Street in the Brisbane suburb of Toowong, pass within twenty metres or so of the grave of one of the nation's most famous and internationally feared boxers … yet today few people know his name. His final resting place lies on the top of a small rise on the eastern side of Toowong Cemetery and is not easy to miss – the elaborate white marble monument carries the inscription: 'This was a man'. An extraordinary life, and a man respected worldwide.
Ruth, Violet and Florence – Crash of the Dakota
The newspaper headline screamed 'No survivors here' and so it was that on a fateful flight from Brisbane to Sydney on Saturday morning 27 March 1943, three women from different backgrounds and cities, would come together in unfortunate circumstances and rest beside each other forever in Lutwyche War Cemetery.
Emma Miller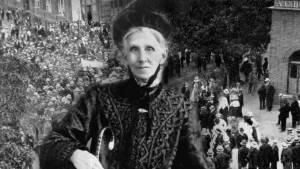 Buried in Toowong cemetery are the remains of a small, feisty woman who was larger than life – a radical remembered for passionately leading marches and strikes, wielding her umbrella and sticking her hat pin into a police commissioner's horse during a riot. She spoke for the working class and helped Queensland women get the vote. Emma's was a life of hard work and passion.
William Ware – The Hangman
The state had eight men who were the official "Finisher of the Law" and one of them, William James Ware, is buried, ironically some might say, in the same cemetery as those he dispatched. How did William become a hangman?
John Andrew Stuart

John Andrew Stuart with his partner, James Finch, would together commit one of the most horrific crimes in Brisbane's history. On Thursday 8 March 1973, nightclubbers were enjoying a drink and dancing at the Valley's Whiskey Au Go nightclub. The Delltones had played on stage just hours before. Little did the nightclubbers know what was in store…
Joseph Marconi – the Goanna Oil man
If Joseph Marconi had died today, his death would have caused an uproar with society's focus on 'One Punch Can Kill' and the 'Walk Away' campaigns. Joseph was 46-years-old when he died in the act of breaking up a fight between his son and a friend. One foul punch slayed him, knocking Joseph to the ground. He died within an hour of being hit, on the 21st October 1922, but his legacy will never be forgotten, as many Australians grew up familiar with the product he invented – Goanna Oil.
Ellen Thomson – Queensland's only hanged woman

With a Catholic priest standing by her side, Ellen Thomson's last words before she was hanged by the neck for the murder of her second husband, were: "Goodbye everybody; I forgive everybody from the bottom of my heart for anything they have wronged me in this world." And, it appears she may have been innocent. So how did Ellen Thomson come to be the only woman hanged in Queensland history?
Hector Vasyli – a dear boy

As World War I approached its conclusion, there were a number of welcome home parades in Brisbane for the men who had travelled to the other side of the world to fight … and survived to return. But the returned diggers procession that took place on 9 June 1918 led to one of the most tragic stories amongst those who now lie in Toowong Cemetery … that of young Hector Vasyli.
Walter Porriott – Jack the Ripper?
Could Jack the Ripper be buried in Toowong Cemetery, Brisbane? It would seem unconscionable that a serial killer who so cold-bloodily murdered five women could now rest in peace on a leafy hillside next to his last wife in Toowong Cemetery. But that may well be the case…
God's Acre – The Grenier family
Away from the sprawling graveyards of Brisbane, lies a collection of graves in a secluded cemetery on once what was a private piece of land. Set on the fringes of Archerfield Airport, generations of families rest; the first grave born from tragedy after the death of Thomas and Mary Grenier's sixteen-year-old son, Volney. How did this little cemetery come to be and remain as it is today?
George Witton

Many Australians know the story of the execution of two of our soldiers—Harry 'The Breaker' Morant and Peter Handcock—who were court-martialled by the British for shooting Boer prisoners. However, there were other Australians charged with Morant and Handcock. One of them wanted to die with them, and he is buried in the Lutwyche Cemetery in Brisbane.
The Wood family – Gracie's store

In the early hours of Sunday morning, 22 March 1964, the residents of Coorparoo were woken by the sounds of fire trucks screaming to a small residence at 190-192 Cavendish Road. The residence was home to Rosina Wood, 76, her daughter Grace, 48, and Grace's sister Meta, 54. The front of the house was their business, a small toy shop that sold toys and sweets to the schoolchildren at nearby Coorparoo State School. But the fire brigade found much more than they bargained for – this was not a house fire, it was the scene of a murder … and the fire was lit to try and hide the evidence.
Crack shot Billy Sing

One Aussie WW1 digger is regarded as the deadliest sniper we have ever produced … responsible for the death of at least 150 enemy soldiers—and surely many more—150 is just where they stopped counting. In the military grave section at Lutwyche Cemetery in Brisbane, it's hard to miss the memorial to Billy Sing. It stands tall over the field of memorial headstones of the almost 400 soldiers, sailors, airmen and women remembered here. What became of Billy after the war and how did he cope with his actions?
Gregory Brown and Augustus Knight – disaster on the range
On Labour Day, 5 May 1947, a picnic day was planned for staff members and their families from the Department of Customs and Excise in Brisbane. In beautiful sunny weather, the social club left the city with nearly 500 men, women and children aboard a train, rattling their way towards Closeburn. But the picnic never went ahead and Gregory Brown – the youngest person on board, and Augustus Knight – a fireman working with the driver, would not return home.
Connect with the authors on the Grave Tales Facebook page, Instagram or YouTube channel.
Price and availability:
$25  inc postage in Australia only, if purchased directly from the Grave Tales shop;
Available as an ebook and paperback from Amazon (postage cost determined by Amazon);
Also available through all good bookstores at the recommended price of $29.95.
Audio books available from Audible.